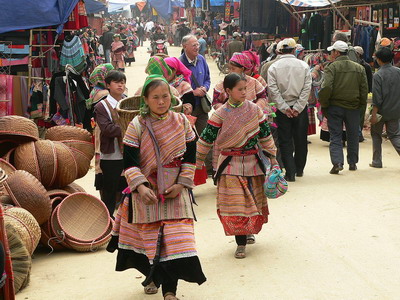 Start of Bac Ha Market / Small town Bac Ha
"The northern highlands of Vietnam are a treasure trove of ethnic minority cultures, and market days find them in their most colorful, resplendent in a riot of sights, and scents! Bac Ha, one of the biggest of the lot, bustles with life every Sunday, but beware also of the good-natured hustles!"
"Where you from mister", a colorfully decked Hmong lady asked as she sidled up to me. With a broad smiles stained from betel nut chewing, she launched into her sales pitch with the finesse of a million dollar club insurance salesperson! "I am teacher and try sell something on weekends only… Vietnam teacher very low salary, and today you my first sale!" she continued with a forlorn voice that got me hooked! But then again, she did have some very nice looking hand-made Hmong sling bags, and cheap too!
The Bac Ha Sunday Market is one of many ethnic minority markets that dot the northern frontiers of Vietnam . However, its size, variety, gaiety, and sheer color should qualify it as one of the best, and a must-see in any Vietnam traveler's trail, although it does take a fair bit of travel to get there. Starting with an overnight train from Hanoi to Lao Cai, just kilometers away from the China border, it is another 2 hours bus ride on twisting mountain roads to finally roll into the normally placid town of Bac Ha .
As one pulls into Bac Ha on a Sunday, the first glimpses of colorfully clad people making their way to market already makes for gleeful anticipation, and soon enough, I find myself immersed in the sights, scents, and sounds of Sunday shopping a la' Bac Ha! The Hmong is the major ethnic minority here, and are divided into the Flower Hmong and the Black Hmong, with the former nicely more dominant because like their namesake, they really love to don their traditional wear of multi-colored layers of finely hand-woven blouses, skirts, scarves and come out looking like a walking, talking bouquet!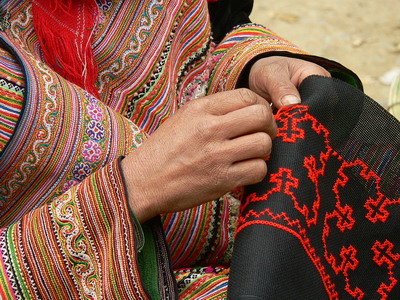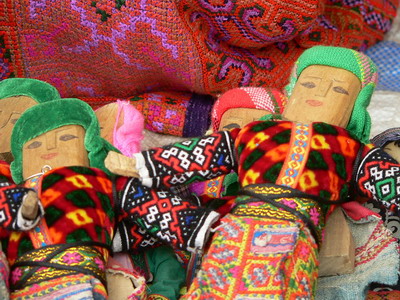 And among those out marketing their ethnic products, talk they did! I simply find it amazing how necessity made for a great teacher here as the English proficiency of these colorful people even exceeds some of those working the hotels in Hanoi! Mek Su, a grizzled granny of 80, sauntered up to me as I was busy exhausting my digital memory card, "…you take picture of mama?" she asked with a toothless smile. Anticipating a hard sell if I did, I declined with my own big smile, but she responded cheerfully, "…no buy never mind, mama like picture…but if you buy, mama smile bigger for you!"
It can be a bit of a hard sell sometimes, and sights of lone tourists being surrounded by colorful sellers are common. However, thankfully, it is a 'soft hard sell' in that most of the business bantering is done in a good natured and friendly way, as personified by Mek Su, and I am now the owner of a pair of silver bangles which I really have no use for! I have to pause here for a moment, to give mention that one should spare some thought that these people are eking out a living, and it will do little harm to part with a few thousand dongs(RM1 gets you about 4400 Viet dongs!), after poking your camera at them for countless shots, and they do have nice things too.
Much more than tourist trinkets however, Bac Ha Sunday Market is a common people's market where daily produce are bought and sold. In the pony trading section, men pour over hooves and teeth, while in the food section, womenfolk haggle over cabbage and chilies. Pigs squeak on the ground with their legs bound, and puppies await for the lucky child who will take them into their care, in the pig and dog sections respectively!
A lot of the everyday goods on sale are understandably of the cheaper ilk, with China made products dominating. Of these, bright and gaudy thick blankets are a popular item, as are cheap but hardy shoes reminiscent of the "fung keong" of old in Malaysia , complete with rubber studs! Among Vietnamese products, a good usable souvenir would be little alumunium coffee sets, much like a mini percolator—the Vietnamese like their coffee raw and strong!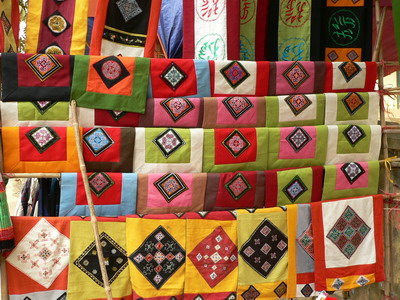 Embroidary Stuff / Bags Peddlers
If all the shopping and snapping make for tired legs, there is a large food section with an extensive array of ethnic and Vietnamese fare. You sit on small stools, and may end up beside an open rubbish-filled drain, but the hot food served should not give much problem except for the most fastidious of tummies! In any case, at 2000dongs(less than RM0.50), for the simplest of pho, or Vietnamese soup noodles, one can't complain! On the go, snacks abound. The banh chuon, a sweet peanut in a glutinous rice wrap, is delicious but be wary of the hot drippings! And the cinnamon laced crunch of the mut, much like our 'keropok', makes for a nice bite.
The Bac Ha Sunday Market starts as early as 7am , and by 1pm , there is a discernible winding down of activity. "You buy from me…one last piece only, I give you cheap price!" one little Hmong girl implored me as she held out a local musical thingamajig Sensing my ignorance, she continued, "Very simple…I show you how," and she proceeded to put it in between her lips and tweak out a rather melodious and haunting 'phernnn phernnn phernnn'. "Now you try", and all hygiene aside, I did try, and now also own this thingamajig which unfortunately I can only tweak out a pathetically flat 'pffnn pffnn pffnn'!
I left Bac Ha happy. My camera was filled with shots of a people who came in their traditional Sunday best, not for tourists as atypical to similar markets in Chiang Mai, but more so as a means of proudly identifying themselves a distinct ethnicity. My colorful Hmong sling bag was absolutely stuffed with small bangles, snacks, various figurines, even a little gaudy stuffed pony, and of course the thingamajig! Last but not least, my senses were still reeking of horse and pig, strong coffee and salted meats, and the raw smell of a bustling Bac Ha Market! Next time I'll buy a bigger sling bag to start with for sure!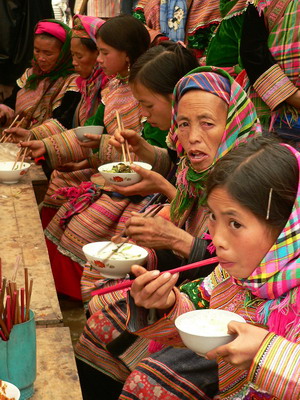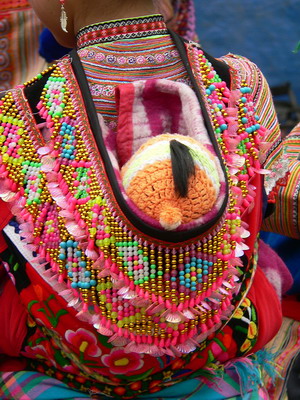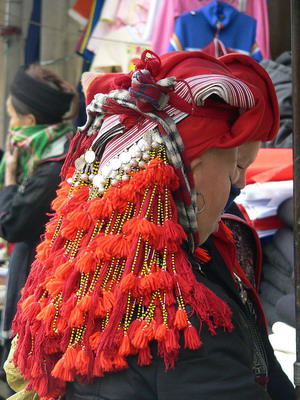 Colours Galore - Flower Hmong and Red Hmong